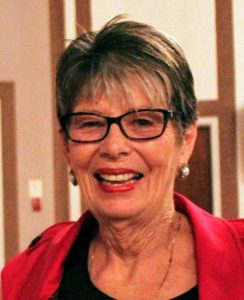 Margie was born and raised in Westport, Ontario where she attended St. Edward's Parish and School. She is married to Jim and they have 4 children and 6 grandchildren.
Margie became a Catholic Women's League member when she returned to Westport 30 years ago.  Her grandmother and mother had been very active members of CWL and she is following in their foot steps.  She has held different positions in the League over the years.
She was awarded the Maple Leaf Service Pin in 2015.  She is a Eucharistic Minister and looks after scheduling and helping with that, as well as Children's Liturgy.  She is one of the leaders for the funeral luncheons which she takes very seriously.
Margie is retired now, her husband Jim and herself just finished building a home, where they enjoy having their children and grandchildren come visit often.  She has adopted a special needs son and has spoken at Adoption Conferences over the years. Before adopting she was a foster mom.  She enjoys her sister's in the League and looks forward to meeting new members and new adventures.