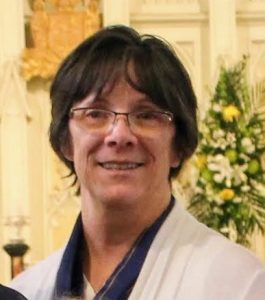 Jean has been a member of The Catholic Women's League of Canada since 2002, with various parishes, presently with Our Lady of Lourdes in Kingston. Jean was also on the liturgy committee for 2017 Diocesan Convention, and serves on the ministries of Extra Ordinary Minister of the Eucharist, lector, gift bearer, funeral luncheons and the Legion of Mary.
Jean retired from the Canadian Armed Forces in June of 2016 as a Master Warrant Officer with over 33 years of service to her country. During her time in the military she spent time in Cold Lake, Petawawa, Germany, Kingston, Wainwright, Haiti and Somalia. While in Haiti she visited an orphanage where a group of Canadians spent Christmas day and brought gifts and dinner to the orphans.
Jean now occupies her retirement volunteering at Providence Care Hospital and knitting hats and mittens for the homeless and lap blankets for hospital patients.