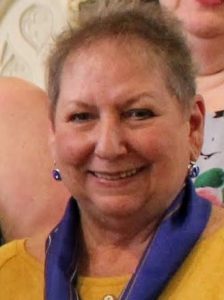 Colleen is the married mother of two sons and has been gifted with two beautiful grandchildren. She is a former occupational health nurse having practiced in Toronto, Kingston and Belleville.
A Catholic Women's League member for 32 years, she has held positions at the parish level of Community Life Chair (Toronto), Secretary, President and currently Past President (Picton).
As are too many League members, Colleen is a cancer survivor whose faith has been strengthened through her journey. She holds great stead in Ignation Spirituality and the writings and example of His Holiness, Pope Francis. She is in awe of the history and accomplishments of the League and was strongly prompted to accept her first nomination by our then theme, 'Inspired by the Spirit, Women Respond to God's Call'. She aims to continue to fulfill her role with the blessing of her husband, the mentorship of Life Members and the prayers and support of her Sisters in the League.