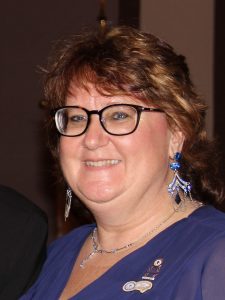 Nancy has been a League member in good standing since 1994. At the parish council level she has served as Communications Chairperson, two terms as Secretary, Organization Chair/President Elect, President and Past President, a position she held for two terms due to the passing of the next President.  She remains active at the parish level.
On the diocesan level Nancy served as Region Four Rep for one year. She was then elected to the Recording Secretary position, followed by 1st Vice President/Organization Chair, Treasurer, President Elect/Organization Chair and is now President.
She helped organize and accompanied the group from St. Mary/St. Cecilia Parish to World Youth Day in Toronto.  She retired from 13 years active service with Scouts Canada.
Nancy has over 17 years experience in the accounting and secretarial field. She has been the part time bookkeeper/secretary for St. Mary's Parish, Morrisburg since 2001.  In 2016 also took on a part time position at Divine Infant Parish in Orleans as bookkeeper.  In 2017 she added another part time job as a part time bookkeeper for Resurrection of our Lord in Ottawa.  She worked in the property management field for 8 years in Ottawa before moving to Iroquois.
Nancy has been married to Chris for 28 years and they have two grown children, Madeline and Michael.