Carol has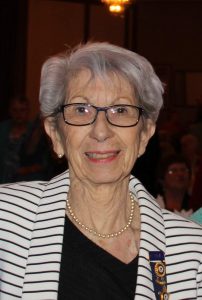 been a member of the League for 51 years, during which time she has held all executive positions at the parish level, at least once, and was presented with the Maple Leaf Service Pin by St. Mary's/St. Cecilia's Parish Council in 2006. She has served the Kingston Diocesan Council as Recording Secretary, First Vice President/Organization Chairperson, President and Past President/Historian and has served three terms on the Ontario Provincial Council; 2011-13 as Recording Secretary, and 2013-15 as Chairperson of the Education and Health Standing Committee, and as Legislation Standing Committee Chairperson for the 2015 -2017 term. Carol was honoured to be awarded Life Membership in the League in 2013.
She has prepared and presented several workshops and a number of presentations for use during membership drives. As provincial Education and Health Chairperson, Carol and her committee developed a new Education Pamphlet which was distributed throughout the province. The focus of the Education and Health Standing Committee on promoting Resolution ON.13.01 Reduce the Stigma Attached to Mental Illness led to Carol writing 'A Prayer For Those Living With Mental Illness' which can be found on the OPC website. Carol has also served as a facilitator for 'Catch The Fire'.  She has been appointed as Life Member Liaison for Kingston Diocese for the 2019 – 2021 term.
Carol and Murray have been married for 59 years, are the proud parents of two, and grandparents to three. Her daughter, daughter-in-law and two granddaughters are all CWL members. In her home  parish Carol serves as a Reader, Communion Minister, Choir member, and was active on the Parish Council for several years.  For the past 20 years she has been involved with the South Dundas Christmas Exchange, the last 14 years as Chairperson, providing Christmas hampers to over 200 needy families each year. Carol was an elementary school teacher, before embarking on her second career as a Real Estate office manager and salesperson.  She is now retired.
Her attendance at many diocesan, provincial and national conventions has provided the opportunity to meet many wonderful women across the country, and to develop many special friendships.  The League is truly a gift she treasures