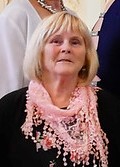 Elizabeth was born in Toledo and was a member of St. Philip Neri Parish for almost 60 years. She is married with adult children and ten grandchildren. She retired in October 2012 from a 31 year career with the Catholic District School Board of Eastern Ontario. Her hobbies are Grandma time, walking, reading and golf.
Elizabeth has belonged to The Catholic Women's League for most of her adult life. She served on the Executive at the parish level as Secretary, Treasurer, (two terms), and President (three separate times). As a member Elizabeth was a representative for the parish school and on many occasions presented bibles to the grade four students, and gifts for First Communion and Confirmation. She was an active parish member, helping with funeral lunches, organizing meetings, visiting shut ins and helping out with monthly coffee Sundays.
Elizabeth relocated to Gananoque and belongs to the League at St. John's parish. She is looking forward to having more time to pursue new challenges, and enjoys  being a member of the diocesan council.